Accomodation Guide
---
Australian Alpine Club
Contact: www.aacfallscreek.com
---
Carey Alpine Club inc.
Located at the Express lift end of Parallel Street the lodge offers self catering style accommodation with private facilities, bed linen supplied during winter. Live-in winter manager.

Beds: 30 beds over 8 bedrooms. Mixture of double and bunk beds.

Facilities: Two fully equipped modern kitchens, dining room, lounge room with open fire, BBQ area, laundry, large drying room, large ski room.

Price range: Restricted to members and their guests.

Contact: http://www.careyalpineclub.com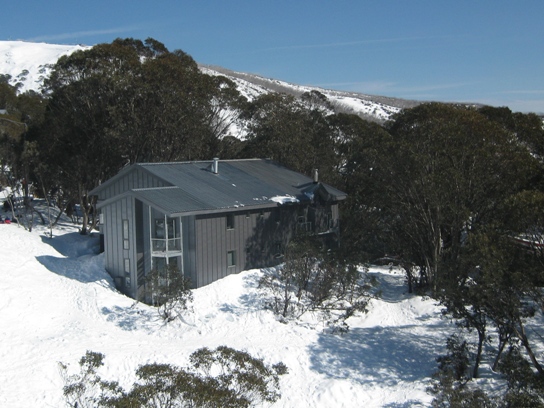 ---
Chorki Lodge

Chorki Lodge is a comfortable alpine chalet which has a range of accommodation facilities suitable for couples, groups of singles and families. All rooms have ensuite bathrooms and one double room has a spabath. Two family suites have a separate room (for the parents) attached to a bunk room (for the kids).

Guests are required to bring their own bed linen, pillow cases. etc.. and towels

Chorki has two comfortable living areas [one a mezzanine] with T.V., video, DVD and Chess table a communal fully equipped kitchen and a dining area that can seat 20 or more guests. There are ski storage areas, laundry facilities and a large drying room. There is also a sauna room and the front balcony looks out over the picturesque Kiewa River valley and the distant mountains

Price range:

Contact: http://www.chorkiskiclub.com.au


---
Cosela Alpine Club

Cosela is a club lodge located in Snowgum Lane close to Falls Express, the Nordic Trails, & the Bogong High Plains Road. Oversnow transport is not required. Ski in / ski out. Magnificent views. All seasons accommodation.

There are 30 beds (doubles, queens and bunks) spread over 6 bedrooms. Members are required to bring their own bed linen and towels.

Facilities include: Spacious lounge with open fireplace, well equipped communal kitchen, two dining areas, drying room, laundry facilities and sauna.

Breakfast cereals, bread, spreads, milk, tea, coffee, and sugar are all supplied.

Price range: Please refer to web site. For members and their guests only.

Contact: http://www.cosela.com.au


---
Mogul Ski Club
Fully catered lodge style accommodation.

Beds: 26 beds over 8 bedrooms. Mixture of queen, double and bunk beds.

Facilities: Full time chef and manager, lounge room, games room.

Price range: Restricted to members and introduced guests.

Contact: http://www.mogul.org.au
---
Oldina Ski Club inc
Oldina's lodge is situated at 5 Arlberg Street with genuine ski-in and ski-out access and quick access to the Halley's Comet lift. Oldina offers self catering lodge style accommodation with communal facilities. Suitable for both families and singles.

Beds: 28 beds over 3 levels, mostly bunk beds with en suite bathrooms. The top level consists of 2 self contained apartments with 4 beds each and their own bathroom and kitchen facilities.

Facilities: 2 fully equipped kitchens on the mid level with stoves, microwaves, fridges etc. Large communal lounge room with open fire place, drying room and workshop for ski tuning.

Price range: from $14 for members to $60 for guests per night.

Contact: http://www.skioldina.org.au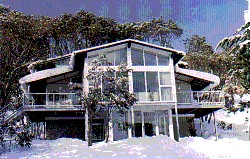 ---
Red Onion Ski Chalet
Located in Arlberg Street (opposite Attunga Lodge) this free-standing, three-storey chalet is available to the public for self catered accommodation during the winter only. Ski and board hire and restaurants are only meters from the front door.

The whole chalet is booked to one group at any one time, and is ideal for families or a group of friends. Accommodation is for a maximum of 10 people.

Accommodation is in 4 bedrooms – a master bedroom with a queen-sized bed, a twin room with two singles, and two rooms with three beds (one is a bunk). There is a cot and high chair available for infants. Doonas and all linen and towels are provided. Facilities are two separate lounges, both equipped with TV, video, and CD player. There are two bathrooms with two showers each and separate toilets, and there is a sink with both hot and cold water in each bedroom. The kitchen is separate and fully equipped with everything that you have at home! The very large balcony has an electric BBQ, table and benches and seats to enjoy the panoramic views of Mt Spion Kopje. A large ski room, drying room and laundry are at the entry level. Luggage and skis can be left here on arrival or departure, which allows you to ski on both these days.

Bookings are for the whole chalet for single groups up to 10 people. Prices are all inclusive and are available for 5 or 7 day stays only. The range over the winter season (with no rate increase since 2005) is from $2400 to $5200. Bookings for the next season open in November, and, be warned, most peak weeks are generally filled by December. If you are enquiring about availability please phone (02) 9960 4490 anytime, or contact us via the web site below. If you wish to receive booking information in October about the following winter please advise your email or postal address.

"Red Onion – your home in the snow"

Red Onion web site: http://www.redonionfallscreek.com.au
---
Schuss Ski Club Ltd.
Located on Parallel Street with ski-in ski-out access to both lifts and cross-country ski trails. Close by are ski and snowboard hire, bars, restaurants and cinema. Schuss Lodge offers self catering lodge style accommodation with communal dining and lounge facilities.

Beds: 57 beds over 20 bedrooms. Mixture of double, twin, 3-share and family (double + 2 or 4) bedrooms, all with en-suite facilities.

Facilities: Comprehensively equipped kitchen with ovens, cooktops, microwaves, fridges etc. Our main lounge has a conversation area around a log fire and mezzanine lounge has a television. Downstairs are a sauna and games room with pool and table tennis tables.

Price range: High season - members $32, affiliates $44, non members $84 per night, plus surcharge of $18 for first night. Discounts for other periods.

Contact: http://www.schuss.asn.au
---
Tivoli Ski Club inc
Located on Parallel St close to restaurants, a cafe, cinema and ski hire. Tivoli Ski Lodge offers self catering lodge style accommodation with communal facilities. Suitable for for both families and singles with discounts for group bookings.

Beds: 30 beds over 10 bedrooms. Mixture of queen, double and bunk beds.

Facilities: Fully equipped kitchen with twin stoves, microwaves, fridges etc.
Lounge room, games room with free billiard table and table tennis table.

Price range: from $39 per adult per night.

Memberships are currently available.

Contact: http://www.tivoliskiclub.org.au
---
University Ski Club
Situated in Parallel Street midway between Milch Bar corner and the Halley's Comet end of Parallel Street the Lodge offers self catering style accommodation. Comprises four self contained flat units and six bedrooms.

Beds: 36 beds over 10 bedrooms.

Facilities: Fully equipped modern kitchen, dining room, lounge room with open fire, BBQ on deck, laundry facilities, drying room, ski room with boot dryers. Separate TV room.

Price range: Restricted to members and their guests.

Web Site: http://www.usc.com.au
---
Womburroo Ski Club
Womburroo Ski Club operates out of High Plains Flat 3, site 211 Slalom St, next to the Billia Bullet Chair; ski-in ski-out via Wombats Ramble only 10 metres from the door. Fully self contained living.

Beds: 12 total; 2 bedrooms with bunk beds, 2 double and 2 single in each room.

Facilities: Fully equipped kitchen, dinning and lounge rooms, TV, DVD, VCR, CD. Large drying room separate ski locker, laundry, 2 bathrooms

Price: Mostly occupied by members and guests; some weeks available for exclusive use public booking. Weekly rental price varies through season, POA

Contact for bookings: denleys@ozemail.com.au